Our Blog
Why Homeowners Need to Get Their Paperwork in Order Before Renovations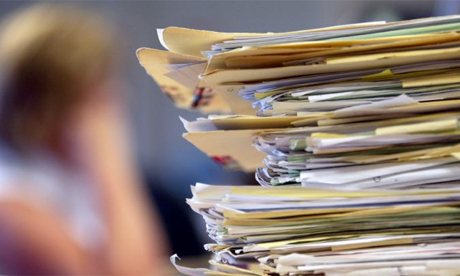 No one likes to deal with paperwork, even though everyone recognizes that its a necessary evil. Shuffling through countless papers and reading through line after line of fine print is enough to make even the most patient and organized person feel like they're about to go crazy! Even though everyone hates paperwork, we learn early on that it's required to do the things we love. If you're in grade school and you want to go on a field trip, you had better make sure your permission forms are signed or you'll have to stay back and sit in the library. High school students need to bring their report cards home and have them signed. When you're an adult, the amount of paperwork and red tape you have to deal with only gets higher and higher. Despite the amount of practice we have growing up, as adults we often try to avoid paperwork as often as possible. No one wants to stay late at work cataloguing everything carefully, or spend their weekend doing taxes. However, some jobs absolutely require that you have all of your papers and certifications in order. One of these jobs is home renovations, especially when it comes to your garage doors. If you're a Mississauga homeowner dreaming about upgrading your home and garage, put your dreams on hold until you have all the paperwork you need. You're not the only one who needs to have the right papers – if you're dealing with jobs like garage door installation or in depth repairs, the technicians you work with should be qualified and certified. We look at the paperwork you absolutely need to have before starting home renovations.
The Documents You Need Your Garage Door Technician To Have
If you walk past a restaurant and they don't have the results of their government mandated health and safety exams in the door, you might get a little nervous. If you went to a dance club and realized they had no fire safety plan, you would probably want to boogie on out of there. If you went out to buy a new car and they offered you a model that was barely held together, you'd speed out of the lot ASAP. You want to take the exact same approach to your garage doors. Mississauga businesses that work in home renovations and with garages are expected to follow certain sets of rules and requirements. There's the Workplace Security and Insurance Board certification, which verifies that technicians are extremely conscious of safety and protocol while on the job. You should also make sure that any technicians you work with have undergone an appropriate period of training, and that the company abides by the code of ethics established by the IDA (International Door Association). Any garage door company you work with should be completely forthcoming with this information and happy to enlighten you; if they aren't, it's time to find someone else who is willing to be transparent and honest.
What About Homeowners? Steps You Need to Take Before Home Renovations
It's important to make sure that your garage door technicians have the right paperwork, but hold yourself to the same standards. This can be slightly tricky, as different provinces and cities can have different codes and requirements. Check with your municipality to see what you need. Most municipalities will require detailed plans of what you're going to attempt, and there will be a waiting period while they look the plans over and approve them. While this is very irritating, it's also necessary: The city is ensuring that you are not creating an unsafe environment in your own home. This is especially true when it comes to your garage doors. Many Mississauga homeowners have home improvement ideas that look stunning on paper but could turn out to be dangerous in reality. By having the city look over your plans, you  ensure that you're not accidentally exposing your family to danger.
Can't I Just Start Work On My Renovations or Garage Doors Without the Paperwork?
Feeling antsy? Can't wait to get started? It may be tempting to go on and start work without checking in with city officials, but there's a high chance you'll regret it. If you make this decision, you are actually breaking the law. You probably won't be carted off to prison or have handcuffs slapped on you, but you could face consequences. A fine is one of the lightest punishments you could face. If you're trying to add value to your home, you don't want to pay hundreds or thousands of dollars to the government. But you could have to deal with something even more frustrating: you may have to effectively undo your changes to allow municipal officials to examine the property. Or worse of all, your home could become effectively unsellable. Even if you fly under the radar for years, a home sale requires all of your paperwork filed. If you cannot produce the right papers that mean your renovations were approved, buyers will avoid your home. Therefore, when you're planning to upgrade or install new garage doors, make sure you cross your T's and dot your I's. Otherwise, your dream home could devolve into a real estate nightmare.
Now that you know the risks of going into renovations and repairs blind, you're probably eager to prepare your paperwork. If you need work done on your garage doors and you're looking for certified, qualified, and experienced technicians, look no further than McKee-Horrigan Inc. We'd be happy to help you with your expansion, installation, or repairs once your paperwork is taken care of. Call us today at 1 888 244 4171 for a free quote and more information!
Contact Us Now to Get a Quote